Forthcoming Exhibitions
John Davies Gallery
The Old Dairy Plant
Fosseway Business Park
Moreton-in-Marsh
GL56 9NQ

01608 652255
gallery@johndaviesgallery.com
www.johndaviesgallery.com
7th - 28th October 2023
Wednesday-Friday 10.30am - 4.30pm
Saturdays 11.00am - 3.00pm
Sundays closed (except for Private View days)
Bank Holidays closed

---
David Tress by Andrew Lambirth
To purchase this monograph please contact Messums Fine Art,
28 Cork Street, London W1S 3NG. 020 7437 5545. info@messums.com.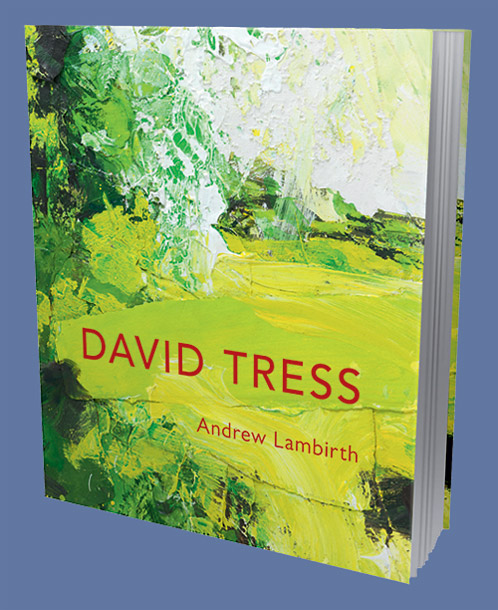 This monograph on the artist David Tress (born 1955) is the first account to deal with all aspects of his career in detail and to explore fully the cultural context of his thought and achievement. Tress is a landscape painter working in the Romantic tradition whose primary subject is the Welsh countryside around his home in Haverfordwest. He paints his response to the landscape he knows and loves with an expressive power rare in contemporary art. His paintings combine formal assurance with a passionate response to subject: evocation of place is balanced by human involvement, just as realistic depiction is qualified by abstract mark-making.
The rich authenticity of the book's text arises from the fact that author and artist have known each other for 20 years, exchanging ideas on a regular basis, and discussing the background to Tress's paintings in terms of place, history, art and literature. Their unique collaboration has resulted not only in a book packed with insights and information, but also containing a group of seven poems (five of them previously unpublished) on related themes by Andrew Lambirth. Drawing on their long friendship, on old and trusted observations as well as new interviews, this book offers the kind of in-depth introduction to an artist seldom attempted in today's culture of superficiality. Written with clarity and directness, and refreshingly free from art jargon, Lambirth's text reveals the full extent of David Tress's artistic endeavour and does justice to it with succinctness and originality.
---
This is a link to Andrew Lambirth's review in The Spectator of David Tress's show at Messums in September 2013: www.spectator.co.uk
---
This is a link to John Russell Taylor's review in The Times of David Tress's show at Messums in June 2012: www.thetimes.co.uk
---
---
Work is currently held by the following galleries:
Messums, 28 Cork Street, London W1S 3LJ
0207 437 5545 info@messums.com
www.messums.com
The John Davies Gallery, The Old Dairy Plant,
Fosseway Business Park, Moreton-in-Marsh GL56 9NQ
01608 652255 info@johndaviesgallery.com
www.johndaviesgallery.com
West Wales Arts Centre, 16 West Street, Fishguard,
Pembrokeshire SA65 9AE, Wales
01348 873867 westwalesarts@btconnect.com
www.westwalesartscentre.com
Beaux Arts Bath, 12 - 13 York Street,
Bath BA1 1NG
01225 464850 info@beauxartsbath.co.uk
www.beauxartsbath.co.uk